Govandi Arts Festival is a cultural movement that celebrates the spirit and resilience of the people of Govandi through performative and visual arts. This project has grown from a little seed of hope sowed in October 2021, with a vision to not only continue the art engagements in Govandi but to bring more tools, mentorships and design a neighborhood pedagogy rooted in artistic expressions.
Govandi is infamously identified as unsafe and criminalized. Cases of theft, murders, domestic violence, suicides are routinely occuring.  The rudimentary construction and infrastructure provides little to no sunlight and the lack of open spaces restricts them to their 225 sq.ft apartments. It is home to nearly 3000 children and young adults growing up in an extremely vulnerable and violent environment. They often find the need to hide their addresses in order to get admissions in schools or be selected for a job.
In the last four and a half years, I have created art-led interventions with the community to bring about change in their physical surroundings. What emerged beautifully was how this approach garnered a lot more interest with the youth of the colony as they felt a sense of agency and belonging within their own neighborhoods, one that lacked and got blanketed by larger infrastructural and law and order issues that weren't in their control.  
The Govandi Arts Festival is one such intervention I am co-curating in the neighborhood.
Watch the festival film by British Council below
Moin Khan, a young rapper and filmmaker who grew up in Govandi, challenges multiple reductionary ideas of Govandi that the outside world has through 'Haq se Govandi', translated loosely to 'Govandi my Pride'. The rap number has garnered more than sixty thousand views on YouTube and is a favourite amongst all the children of the neighbourhood. Moin worked as a delivery boy for Swiggy for a few months to save for production cost of the video. When asked about what prompted him to write and produce 'Haq se Govandi', he says, 'I wanted to give Govandi another identity, which is not linked to crime or garbage.'
'Where is Govandi?'
We are often asked to geographically locate Govandi on the map of Mumbai by people who live in other parts - both affluent and not so affluent - of the city. And though Govandi can easily be identified within the spatial extents, it remains largely invisible from the narrative and consciousness of what Mumbai signifies and stands for. When millions of people flock to the city of dreams or the city that never sleeps, Govandi is not the neighbourhood they expect to see or experience.
To those who know of the neighbourhood, the name evokes many emotions, of fear, pity, anger and frustration. Feared by those who lurk on the boundaries, pitied by the ones who are privy to its deprivation and density, and resented by the ones who are at the receiving end of all these emotions and opinions about a place they call home.
Govandi is an eastern suburban neighbourhood in Mumbai. Administratively, it falls under the M-East ward, one of the densest and poorest areas of the city. According to the Vulnerability Assessment Report, the M-East Ward is also the most polluted area in the city as it houses the most number of factories, an open landfill and is in close vicinity of the refineries and the thermal power plant. The average life expectancy is known to be 39 years, almost half of the national average. If one digs further, more such factual markers of deprivation will emerge. However, facts can only tell so much. Numbers can only mean so much.The human experience can't be distilled into statistics.
'Haq se Govandi' is not a mere rap but an act of creative resistance. The idea of Govandi Arts Festival came out of the need to spotlight this creative resistance which thrives in the hearts of people - young and old - of Govandi. The festival is also an opportunity to bring sustained mentorship to the artists of the neighbourhood which they can't access easily. The aim is to work with an alternative pedagogy to engage with the issues of the marginalised that centre around expression, joy and celebration, without romanticising the lived realities of the people on the margin. Govandi Arts Festival is both the way and means to understand what keeps a neighbourhood like Govandi thriving, despite all the odds.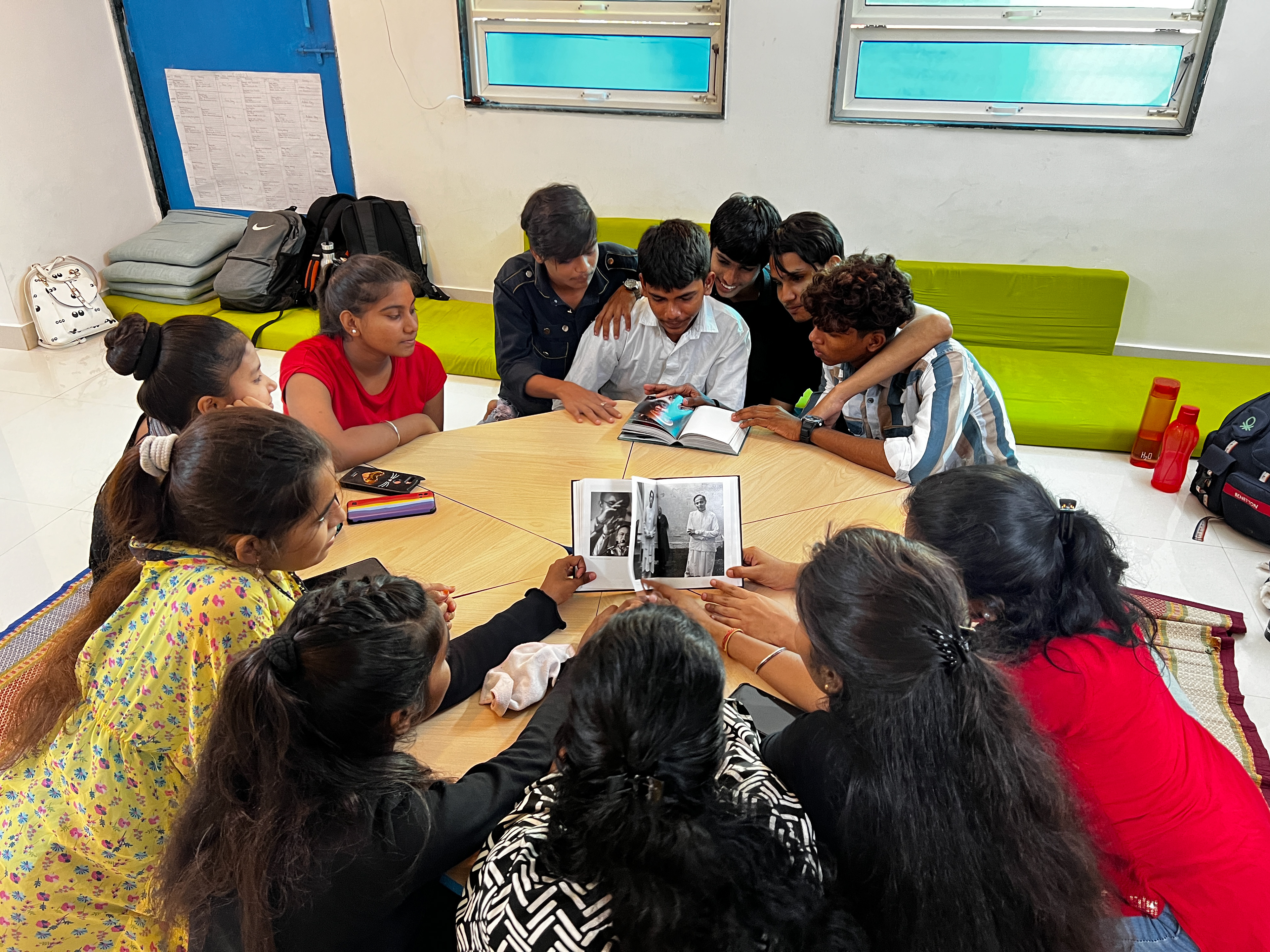 > Create a robust arts based festival approach focussed on building and platforming the skills/talents of spatially/culturally marginalised communities through inclusive processes. 
> Develop an alternate lens of engagement for Govandi which celebrates resilience and creativity at a global scale rather than reductionary exposure as a place of have-nots. Creating joyful festivals & celebrating/uniting distinct marginalised neighbourhoods in Bristol and Mumbai.
​​​​​​​
> Bring exposure, access and agency to emerging Govandi artists with 
the help of creative professionals from Bristol and The British Council.

> Creating joyful festivals & celebrating/uniting distinct marginalised neighbourhoods in Bristol and Mumbai.
At the heart of Govandi Arts Festival is the mentorship program where mentors from creative disciplines - Theatre, Film, Photography, Public Art and Rap - nurtured, supported and taught 36 young adults and children from different neighbourhoods of Govandi for a period of six months. The many exhibits, screenings and performances you will experience is the result of this unique collaboration between established and emerging artists.
Check videos of mentorship process on our
instagram
Artist-Neighbourhood Residency
We selected three artists working with different mediums to situate their methods of practice within the community of Govandi for four months. The result of this engagement has led to two distinct exhibits - Awaaz and Afsana - and a set of workshops.
​​​​​​​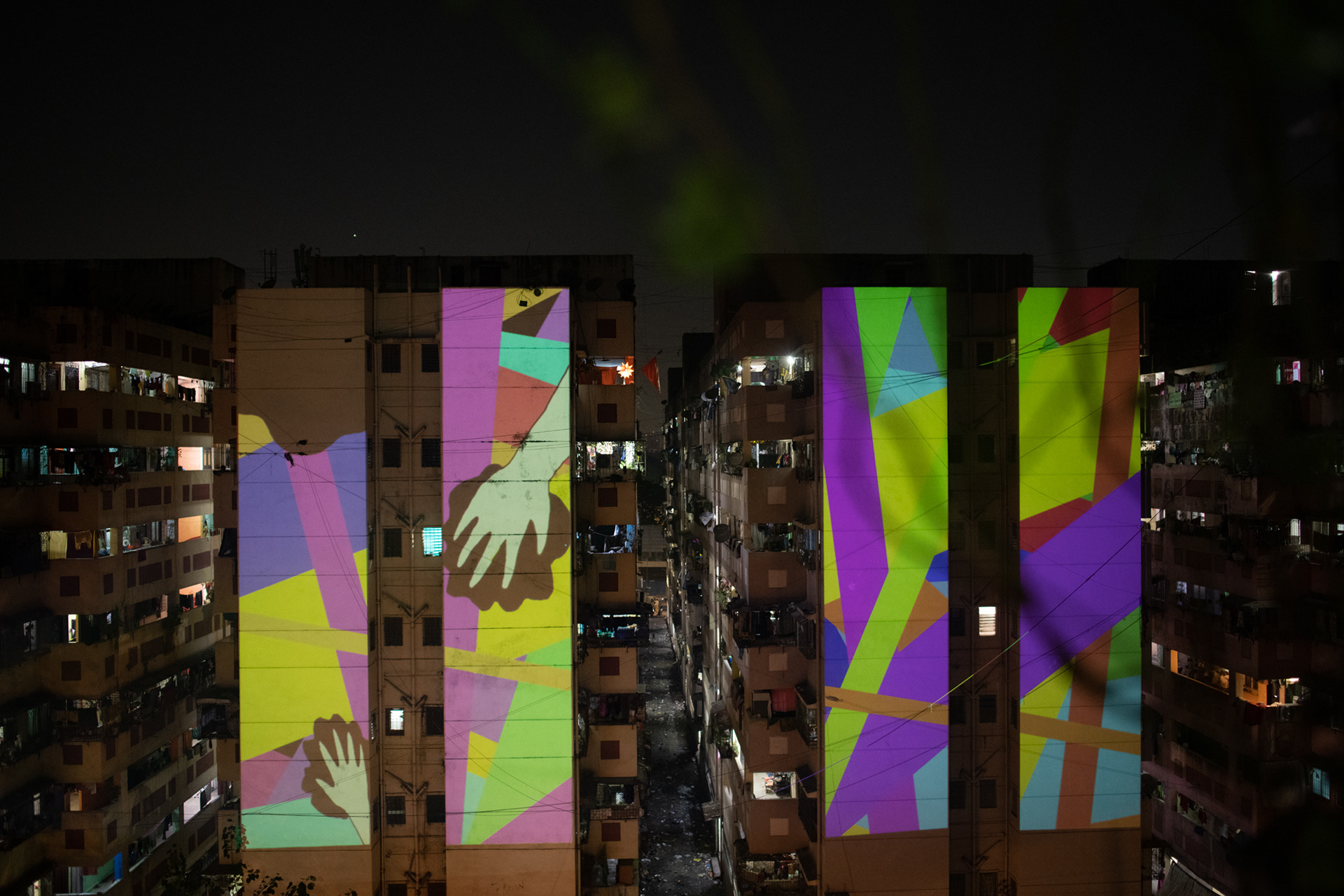 We have invited many creative professionals to conduct workshops for and with the community. These workshops are not just spaces to learn and explore, but to also share and aspire together. From gardening to make up to fashion designing, there is something for everyone in our curated workshops.
Processions and parades are an integral part of life in India. We walk together in moments of joy, we walk together in our sorrows. That is why we jumped on the idea of a lantern parade, a unique community arts procession facilitated by Lamplighters Arts CIC, from Bristol UK. On 18th February, the community of Govandi walked together carrying lanterns they created with the UK artists. Some of the lanterns created by people of Govandi will travel all the way to Bristol to be part of the annual Church Road Lantern parade on 25th March, 2023.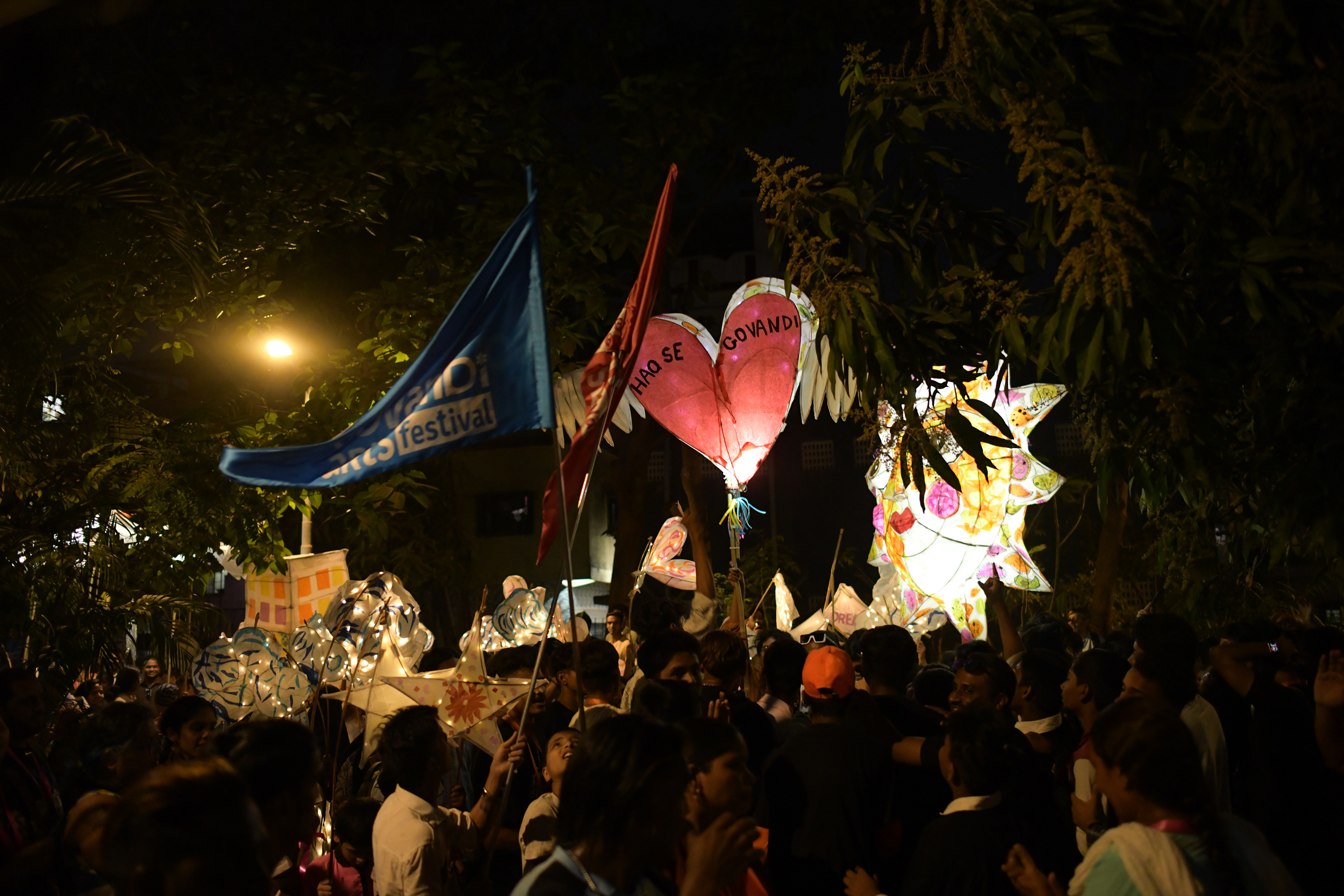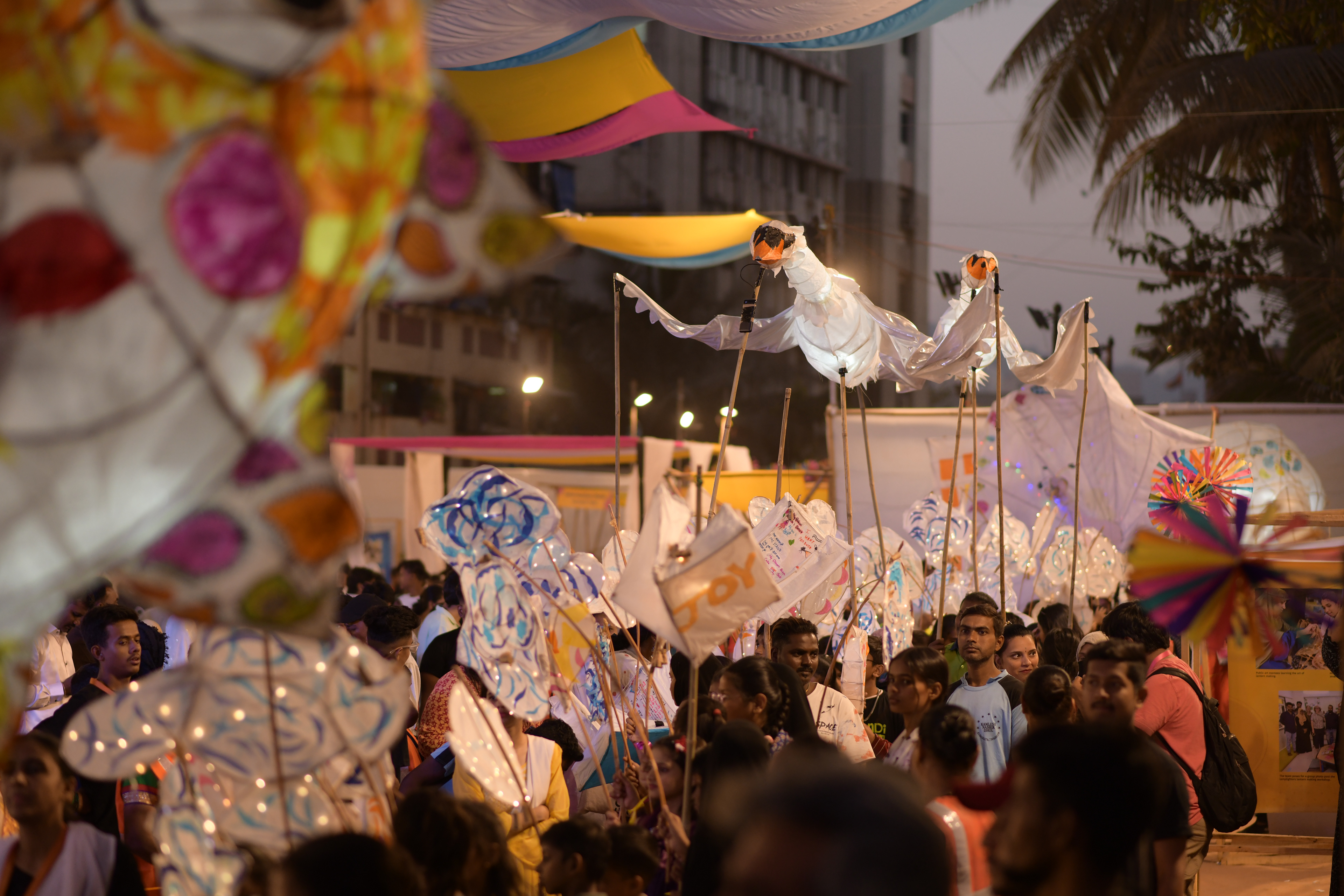 At the Festival | February 15 - 19th 2023
From the many beautiful moments and transformations (tangible, intangible, collective and individual) that the festival gave everyone who participated, attended and made it happen, it also helped the community reclaim a large piece of land as a open community space that was previously encroached by parking.  As per the official plan, that piece of land was marked out for recreational activities but that never happened! After the festival was held there, the federation and society members with Parveenji's leadership spoke to the local MLA and with his support put metal bars on the open side so no cars could enter. It's the first time in 15years that the ground is actually being used as an open ground! 
Here are the before, during and after the festival pictures.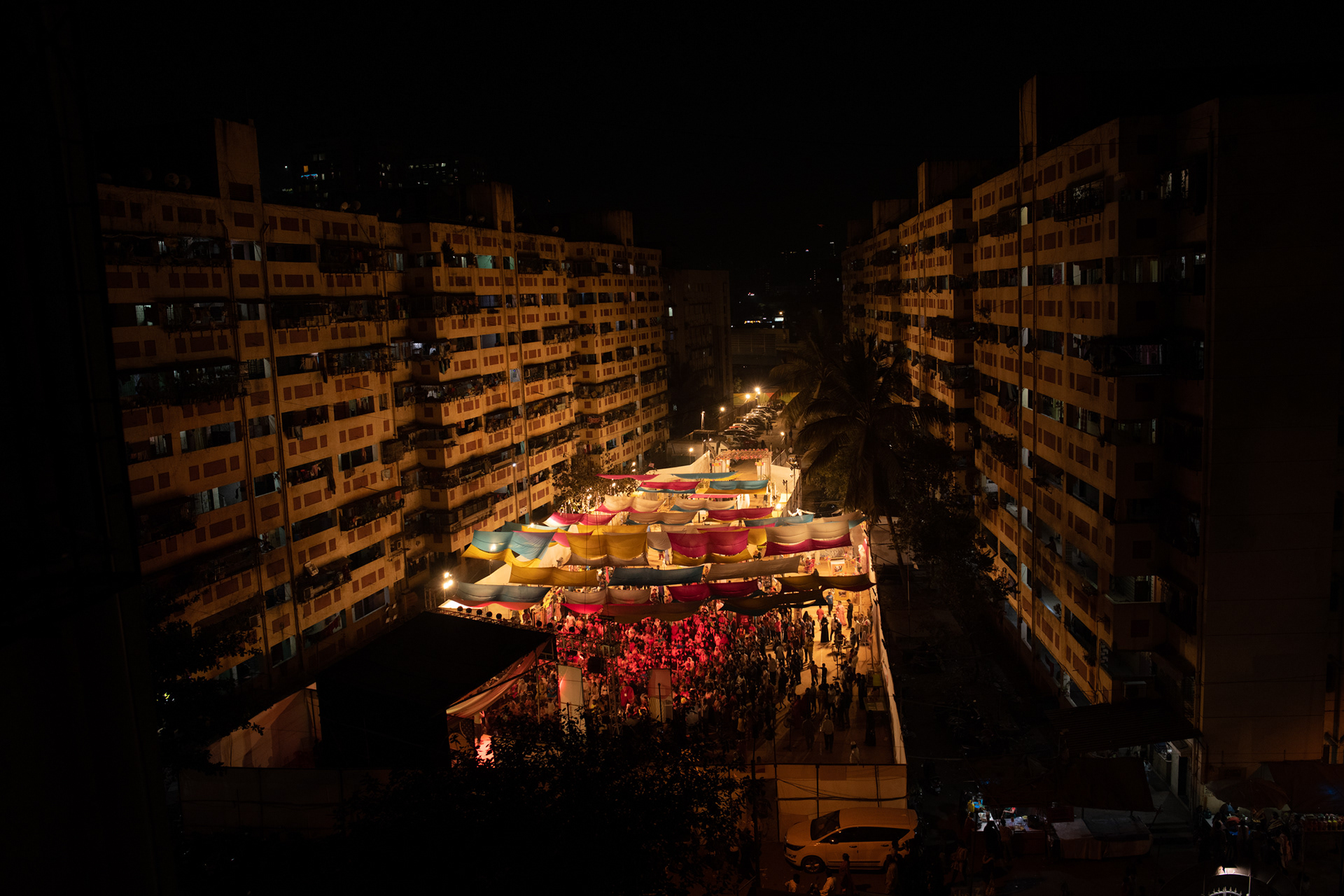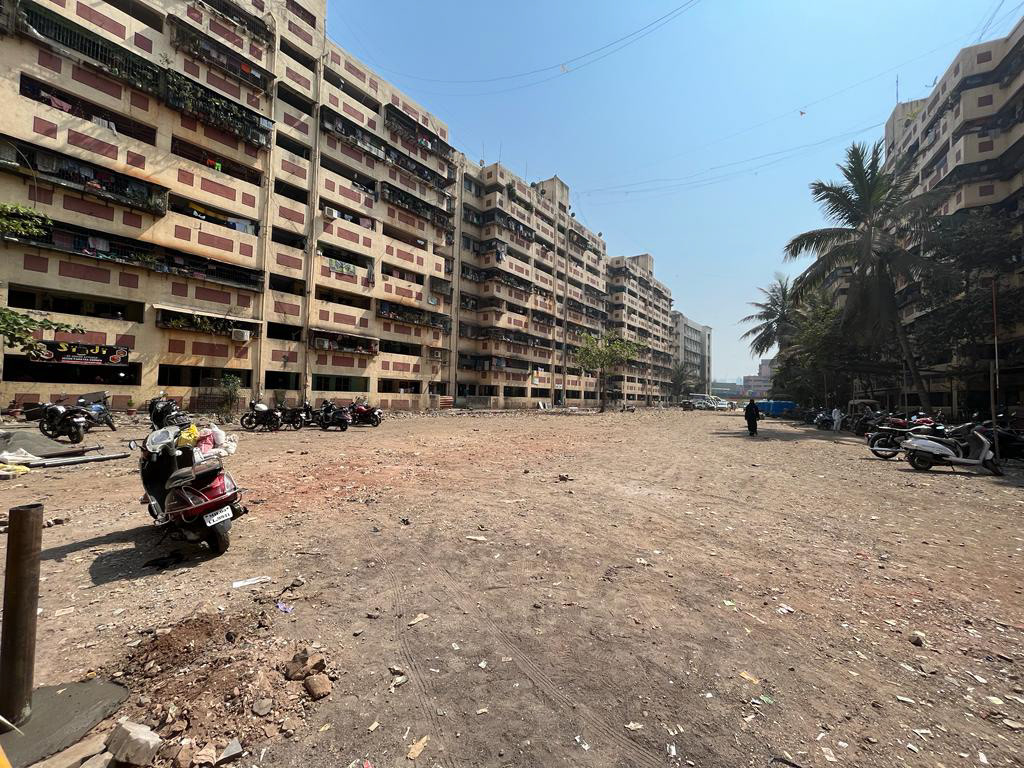 Credits:
Govandi Arts Festival film by Manush John
Photographs by Tejinder Singh Khamkha
Reels by Rubayat Ahmed & Moin Khan
Organised together by Community Design Agency (India), Streets Reimagined (UK) and Lamplighter Arts CIC (UK) who bring their shared practice of using arts to inspire placemaking and bring diverse communities together.